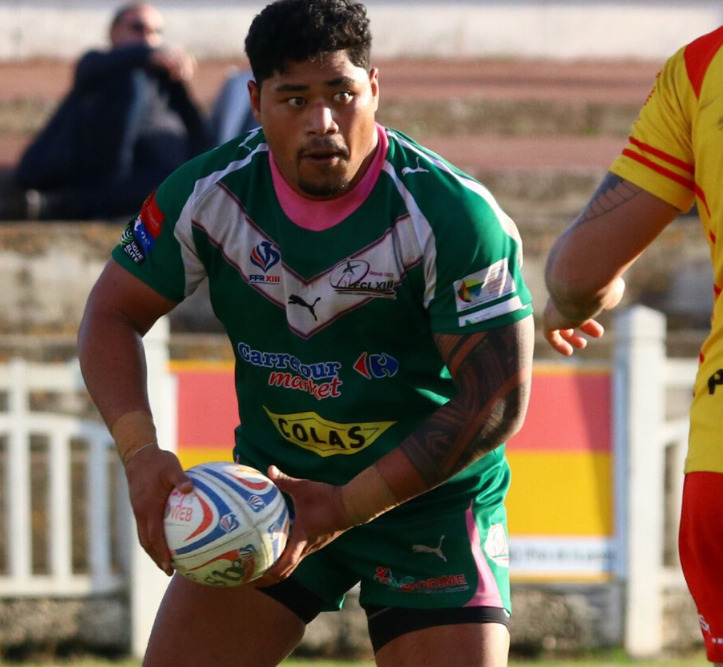 The Tumut Blues have added another big name to their already formidable front row ahead of the Group 9 season by signing former NSW Country under 23s prop, Ron Leapai.
Complementing current Riverina Bulls front rowers, Zac Masters and Jed Pearce, Leapai will add size, strength and real x-factor to a forward pack that has dominated most teams in the competition the past two seasons. 
Leapai makes the move to the Blues from the strong French Elite One Championship rugby league competition, after playing 11 games for FC Lezignan, before the Covid-19 pandemic put a stop to the competition and his dream of progressing to the Catalan Dragons in the UK Super League.
"I only played about 11 games, but then Covid happened and I had to come back," Leapai explained.
"I was playing in the Elite One competition, it was their highest domestic competition, it was like NSW Cup and my big goal was to hopefully impress the Catalan Dragons and make that team."
Prior to playing in France, the 24-year-old made his name for the Woden Valley Rams in the Canberra Cup competition, and brings with him a strong rugby league resume, having progressed through the Canberra Raiders junior system, before being named the 2018 Canberra Cup front-rower of the year.
2018 was a breakout year for Leapai, with the bullocking bookend helping the Rams to a first-grade premiership, whilst also making the Monaro Colts and NSW Country under 23s teams and touring Papua New Guinea with the latter of the two.
Unfortunately, a freak training accident curtailed his 2018 season, meaning Leapai missed all of 2019 due to injury recovery, before moving to France.
"2018 was a great year, but I did my ACL when I got back from Papua New Guinea when training and needed to have 2019 off," Leapai said.
"It wasn't the best way to end a good season, so all through 2019 I was focused on recovery and came back bigger and stronger."
After returning from France, Leapai had offers to play far and wide, but instead chose to focus on work, before making a return to the sport with Tumut this year.
"When I came back in April last year, I was thinking more about work. I'm doing a (carpentry) apprenticeship and I wanted to finish that off," Leapai said.
"So, I hooked into work and didn't really worry about football. I could have gone back to the Rams and played, but the competition only had four teams and I didn't want to risk myself playing footy in a competition that didn't really mean anything.
"I took that break and it made me keener to play some footy, so I am glad I took that time off."
After a year off, a move to Tumut seemed an unlikely course for Leapai, until a phone call from good friend, Zac Masters, and the barnstorming front-rower is now keen to test himself in one of NSWs strongest country competitions.
"It's funny, Zac called me and convinced me; Masters and I go way back, we went through the Raiders together, and he came from Tumut, and my partner's family has close family friends in Tumut, so it made sense," Leapai said. 
"Plus, I thought I would challenge myself this year. I've never left the Canberra comp and I've played with Woden the whole time in Australia, so I thought I would go somewhere else and try their comp out."
Another reason why Leapai will join Tumut is because of his friendships with fellow Canberra-based Blues, Tolo Aroha-Tuinauvai and Jed Pearce.
"I can't wait to hook in, I know Jed Pearce through all the boys and Tolo is one of my best mates, he is in my circle of friends," Leapai said. 
As far as season goals are concerned, playing good rugby league and winning a Group 9 premiership is the front rower's biggest motivation.
"That's sort of the reason I am playing, to play with my mates, to share a premiership together, and I can't wait to play with the Blues and bring the Tumut some gold this year," Leapai said.
One man very happy to see Leapai joining the blues, is co-coach Masters, who has fond memories of his former partner in crime.  
"When I found out Ronnie was back in Canberra, I got in touch with him straight away. Obviously, I've played with him in Canberra and for (NSW) Country in 2018, so I knew he would add a lot to our side," Masters said.
"I told Ronnie what this year meant to the club, being our 100th year, and said we really want to push for a premiership. Ronnie was keen to be a part of it."
As far as what Leapai offers the Blues, Masters said the club's newest key signing would be at home in the middle third of the field.
"He will bring a lot of experience from years of representative footy," Masters said.
"He's a very powerful player, strong ball carrier and defender. He will add some spark in the middle."