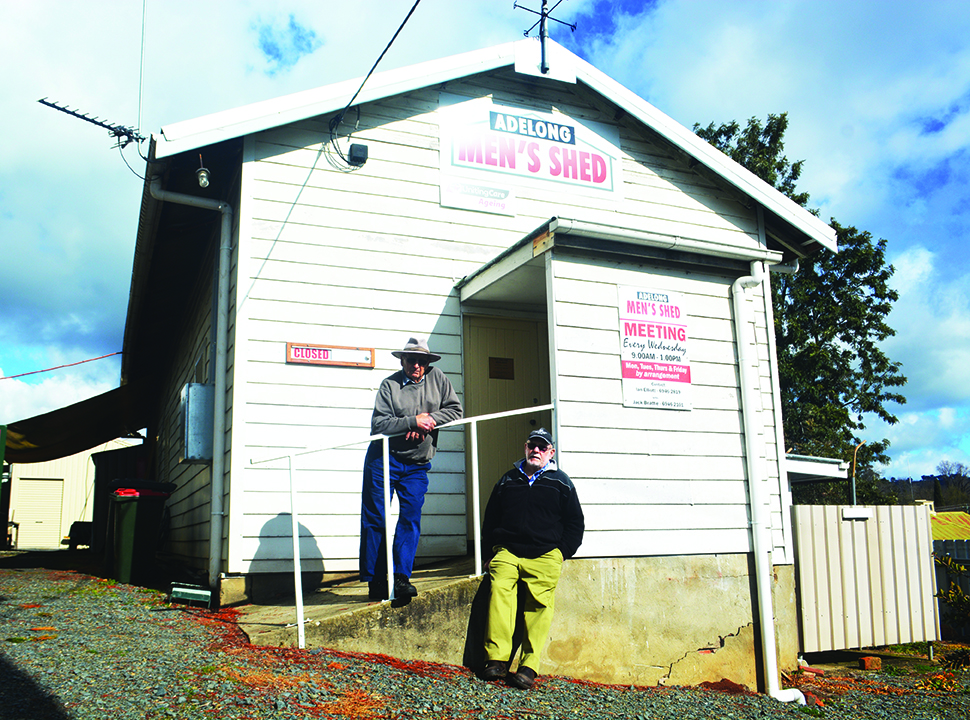 The Adelong Men's Shed is in crisis, according to the man synonymous its name, Ian Elliott.
He started the shed over eight years ago, and has been its president for nearly a decade. He's been there every Wednesday, often every Tuesday and Thursday too, woodworking and making tea and writing grant applications, and there's a lot to show for his tireless work. The Men's Shed is fantastic, and a gift to the Adelong community – but its future is in doubt. Ian's cancer has returned, and sapped him of his ability to run the Men's Shed. It needs a new president and more members.
Ian has seen first hand the positive effect the men's shed has had on others, by giving them people to hang out with and something useful to do for the community, and it's frustrating that he can't get more people to get involved.
"On paper we've got about 20 members, but in actual fact we're down to eight to ten people coming along on a Wednesday. We just can't get people to come along," he said.
"There's only another fellow and myself that's fit enough to really do things and make things, and we have to get some money coming in to pay the power bill.
"We'd like to look at different ways of getting them. Maybe the women in the town could come up and have a 'Hen's Shed' here, which is what they're called in a couple of other places. We'd love younger men with families who work, they can come in the evenings and the weekends, and they can bring their kids along."
The Men's Shed has space and equipment for metalworking, woodworking, gardening, upholstery work, stained glass and lead lighting, leatherwork, or even just "sitting on your bum." There's a DVD collection and music, and plenty of spots to sit if all you want is to get out of the house. Members can use the facilities whenever they want, and the group gathers on Wednesday mornings from 9am to 11am at 39 Lockhart Street.
It's been an important place for many familiar Adelong faces over the years, and Ian often thinks the members who have used the shed as an anchor in times of physical and mental affliction.
"There's one fellow up there, Bobby Webber, he got cancer of the lungs, and his doctor said to him you've got twelve months to live – and he almost made it. One week beforehand he passed on…" Ian said.
"But he openly stated that the shed had given him an extra couple of years of life, and even when he was bedridden before the end, he would still get up and get dressed and his wife would bring him in, and we'd half carry him in the door and sit him down.
"But he came. He was a great bloke, and that's what it's about, keeping them going and giving them a better quality of life.
"There's one fellow who has very, very big problems with depression. He's elderly and he's single. The last couple of years he's really been in the bottom of a deep hole, and every Wednesday he would come along here for morning tea. You wouldn't get boo out of him, but he comes and he sits and has morning tea and then he just quietly disappears, but the biggest thing is that he comes.
"We've got fellows who are getting quite old and frail now, but they come in the door for morning tea and go off home again, it's just about bonding and being together."
It's also a spot for skills that are becoming rarer and rarer to be passed on. A quick inspection of the Men's Shed reveals old gas bottles reworked into heaters and useless scrap metal transformed into camping stoves. Ian would love for young men – or women – to come along and learn these skills from those who have been refining them over a lifetime.
Mostly, though, he wants to be able to believe that after his cancer catches up with him, as it has so many of the Men's Shed original members, that the shed will continue on, and provide bonding and solace for the next generation of Adelong residents.
Ian can be contacted on 0428 474333, or otherwise pop into the Men's Shed for a cuppa and a chat on Wednesday mornings. They'd love to have you.