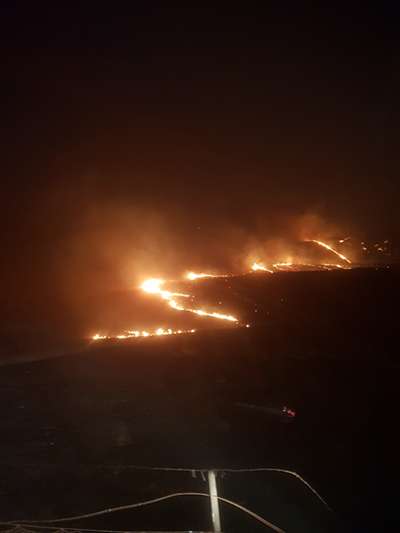 The Wondalga Rural Fire Brigade was in the heart of the fire maelstrom that devastated towns and rural areas on Saturday.
The fire stretches from Ellerslie to Snowy Plain in the south.
After wind gusts picked up at about 2pm, Wondalga brigade captain Shane Walsh knew it was going to be an impossible task to contain the fire at his patch of dirt.
"Ellerslie Nature Reserve went up, crossing the Snowy Mountains Highway, Batlow was getting impacted, so we knew it would be hitting us from all angles," Mr Walsh said.
"We did our best. We were going until about 2.30am"
When an uncontained fire in pine plantation, near Greenhills Access Road, went on a run, the top end of Wondalga came under threat.
"We tried to utilise the gear we had. We had a couple of dozers and put lines in – Jock Mason did a fantastic job.
"We thought we'd made a bit of headway."
The fire-fighting effort wasn't helped when the bulk water tanker – which Mr Walsh had organised himself – caught on fire due to an electrical fault while filling up in Adelong.
"I had to pinch another tanker, we reassessed, and went again."
The damage to Wondalga is unclear, with the likelihood of a small number of structures impacted. Many, many more – about 20 – were saved by the heroic fire-fighting efforts of the brigade.
"There was fire left, right and centre," he said. "We did our best. You have to make use of what you've got, and our plans were solid."
He described the fire activity as beyond erratic.
"Saturday's conditions were catastrophic, so you know you're going to be in trouble," Mr Walsh said. "With that wind behind it, the fire creates its own weather pattern. It was literally a firestorm."