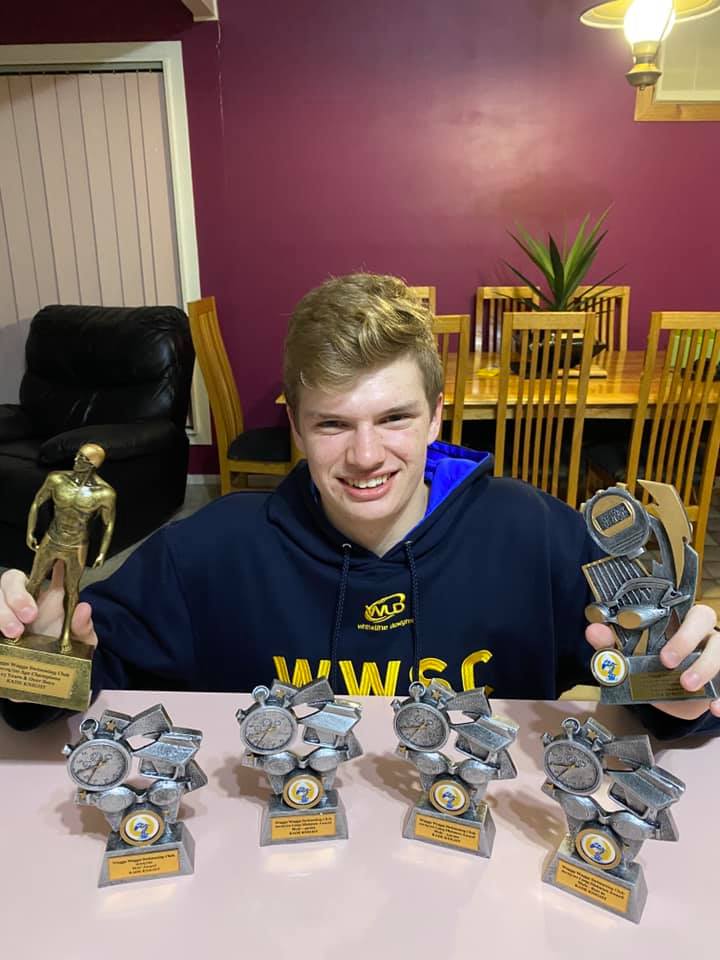 Kade Knight's exceptional 2019/20 swimming season was recognised by the Wagga Swimming Club recently, with the Tumut swimmer dominating at their awards ceremony.
The ceremony was broadcast online due to Covid-19 restrictions and Knight was left with a handful of awards, most notably the Mac Award as motivator, achiever and contributor, and the overall performance award as the most consistent swimmer.
Knight also earned age champion honours for the 15 years and over age group, and won the distance awards for the 1500m and 800m freestyle and 400 individual medley.
A humbled Knight was a little embarrassed to have the awards broadcast to the public but was honoured to be recognised for his effort and achievement this past 12 months.
"I suppose the presentation was still pretty much the same as if we were having it in person, I still got to see the presentations and see who the other winners were, we just couldn't be there in person," Kade said.
"I didn't mind how it went, I didn't need everyone else to see it but I was happy to be recognised.
When asked how it felt to win all these awards, Knight didn't want to blow his own horn, but touched on his efforts at training.
"It felt great, I guess it is nice to have my efforts at training recognised by the club," Kade said.
Kade, who was a Wagga Swimming Club captain last season, has grown as a swimmer both in and out of the water, and proud mother, Kristi Knight, said that her son would never chase the limelight and admit the work he has put in behind the scenes to be a real leader of the club.
"Kade was voted club captain this year, he has actually stepped up and had to be there for the younger kids, and really show his leadership, which didn't come naturally for him," Kristi said.
"He is a quite kid and would never talk himself up but he has had to step out of his comfort zone and take younger swimmers under his wing."
In an added bonus to Kade sweeping the Wagga Swim Club awards, the nationally qualified swimmer made a return to training last week, the first time since Covid-19 closed all pools two months ago.
Commencing last Wednesday, Wagga Swimming Club was given special permission to train, which has allowed their elite swimmers to prepare for the upcoming short-course season but only under very strict protocol.
"They have opened the pool to all of their A and B squad," Knight said.
"We have to get their temperature checked before training, we have to sign in, sign out and book in sessions, but it's all worth it, I was busting to get back into the pool."