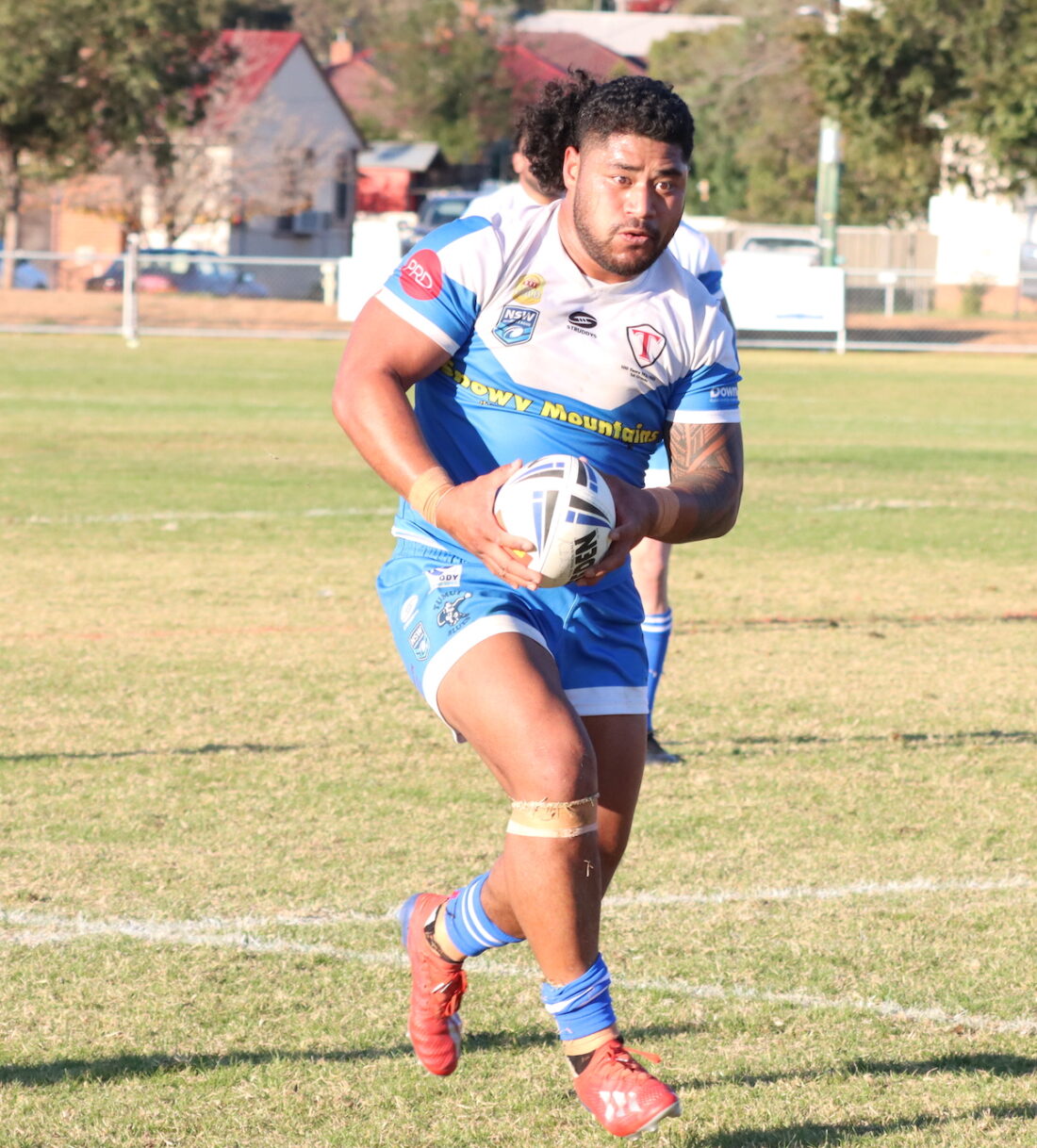 Tumut Blues recruit Ron Leapai is proving to be a shrewd acquisition, with the second rower leading the Weissel Medal counting after eight rounds of the 2021 Group 9 competition. 
The Canberra-based enforcer sits atop the player of the competition on 11 points, one clear of Young playmaker Mitch Cornish, while fellow Cherrypicker, Jayke Hogan, rounds out the top three on nine points.
Leapai has been a force this season, with the barnstorming forward causing headaches on the fringe, while his damaging and no-nonsense running style often has the Blues on the front foot, which has created many opportunities for his outside backs.
Still, Leapai said he didn't expect to be in contention for the medal.
"I am surprised, I wasn't expecting to be anywhere near the top," Leapai said.
"Obviously, it's a good opportunity to have a run for it and maybe win it, but I wasn't thinking I'd be anywhere near the top."
Leapai's 11 points is made all the more remarkable when you consider he is competing for recognition amongst a star-studded Tumut line-up that has two more players in the Weissel Medal top 10 after eight rounds, with Tevita Aroha-Tuinauvai on seven points and Lachlan Bristow on six points.
"Especially with Tumut, it as a big challenge to get noticed," Leapai laughed.
"You need to play good because everyone in the team is playing good and being around
"Hook (Bristow) and Tolo (Aroha-Tuinauvai) … it's no surprise to see them in the top 10."
Leapai explained that Group 9 was one of the toughest competitions he had played in.
"It's definitely tougher. I said at the beginning of the year that it would be good to test out the toughness of Group 9 and I think that is one thing that stands out, the toughness and physicality of the games we play," Leapai said.
Despite travelling from Canberra for training and games, the 23-year-old attributed his good form to the fact that he was made to feel at home with the Blues
"It's good. I love playing there, I love being around the boys and it's such a good club to be involved with," Leapai said.
"And just the fans, they are great, and the people get around the club and I'm enjoying my time there."
The chance to win the Weissel Medal will have to play second fiddle to a Group 9 premiership according to Leapai, who touched on a close-knit playing group and their drive to be the best.
"I think the boys get around each other, everyone is pretty close, right from the local boys to us boys travelling," Leapai said.
"Everyone is buying into the club's culture and with it being 100 years for the club, everyone is motivated to lift that trophy at the end.
"All we talk about is being the team that no one wants to play against, and we go out there and treat each game like it's a knockout final, and we know the rest will handle itself."
Leapai will have a good chance to add to his Weissel Medal tally and the Blues can keep top spot on the Group 9 ladder when hosting a winless Wagga Brothers at Twickenham on Saturday.
Weissel Medal top 10 after eight rounds: Ron Leapai (Tumut) 11, Mitch Cornish (Young) 11, Jayke Hogan (Young) 9, Jon Huggett (Albury) 8, Luke Ingram (Albury) 7, Tevita Aroha-Tuinauvai (Tumut) 7, Latrell Siegwalt (Southcity) 6, Luke McBeath (Southcity) 6, Lachlan Bristow (Tumut) 6, Jacob Mascini (Kangaroos) 6.