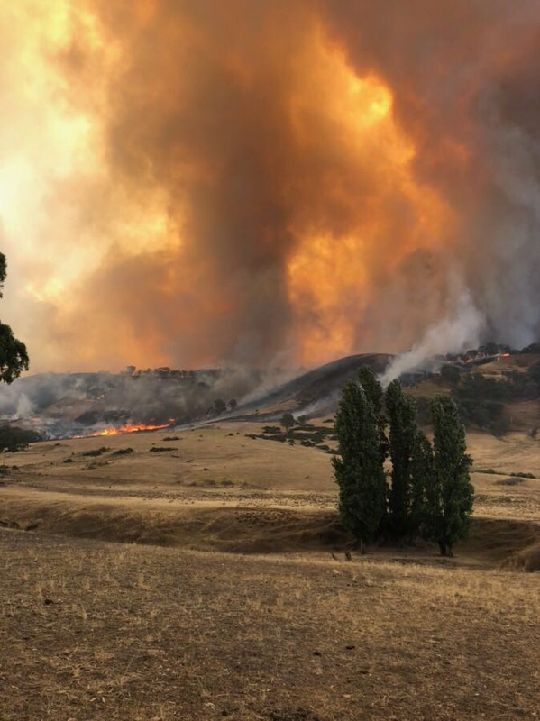 Only one home was lost in Sandy Gully during the Dunns Road fire, but longtime locals and fire captains say the flames got closer to Adelong than ever before.
NSW RFS Group Captain for North Tumut Michael (Mick) Neyland said that the lack of structural damage was partly because of the conditions, partly because Adelong has more grassland than timber and was easier to defend, and partly because of some early preparation done by the local RFS.
Mr Neyland was on Ellerslie Road at 9.30am the morning of December 28, 2019, when the fire began. He said there were concerns about lightning reported in the area, but thick smoke from other fires around the state had reduced visibility.
"There was rumours of lightning strikes, but there was that much smoke you couldn't see anything, so I couldn't do anything else," he said.
Mr Neyland went to work for the Snowy Valley Council that morning, but by 11am he'd been called back to Ellerslie.
"They called me up at the office and said there's definitely a fire out there somewhere, because the landholders can smell real strong smoke," he said.
"At that stage, Larry Casey was in Darlow 7 tanker and I overtook them on the way out there. When I got there, I said, Larry quick, there's a machine, brand new timber processor, it was a $1.1 million machine. It hadn't burnt, but the fire was about 100 metre from it. I said if we hurry, we might be able to save it."
The men weren't able to save the processor, but called ahead for air support.
"I reported back to Tumut and they asked me what I needed, and I said, 'Send everything you've got'."
Mr Neyland said that he requested the VLAT – the RFS' Very Large Air Tanker.
"They said, 'Why do you want it?' I said, 'I'm gonna need it, there's houses right at the edge of [the private plantation] and right in line to being burnt and I need it,'" said Mr Neyland.
Mr Neyland said he knew the tanker was already engaged on other fires, but he put in his request early, trying to plan ahead.
"It got there just in time to put in a line of retardant to save the homesteads," he said.
The fire was held at the northern edge of the private plantation on the 28th and 29th, but Mr Neyland said that with "bad weather coming", he was sent away from the firefront and tasked with building fire trails and dozer lines to protect Adelong.
He said the intensity and speed of the fire is unlike anything he's ever seen.
"I've never seen it as high as that was," he said, referencing a photograph of the fire burning out of the private plantation towards Yaven Creek.
"I've seen big flames down on the coast, but nothing like this."
The fire reached the Adelong cemetery, where it was stopped by the RFS. Mr Neyland said that's the closest that fires have ever come to Adelong.
"Years ago those Tumblong fires, a couple big ones of them back in late 70's burnt near here, but they didn't come that close, they didn't even come to Grahamstown. They burnt more into Gundagai," he said.
Sandy Gully residents Marg and Russell Bowden and family had evacuated to the Adelong Showground after warnings from the RFS at a town meeting on January 2 at the Adelong S&C Club.
"The 4th is when it jumped out of the nature reserve and tore up along the Snowy Mountains Highway and burned several houses that could be seen along the sides of the road coming into Adelong," she remembered.
"As it was coming, it was spreading into properties on both sides of the highway, then it came into Allen's and popped out over the hill and went around the face of the hill and then it came into Sandy Gully Valley and it wandered and spread from the middle of the valley up to us."
Marg said her second son Edward rang and said, "Get ready Mum, it's coming, it's in Truro."
Truro is a few kilometres from Sandy Gully.
The Bowdens had been busy preparing their properties since the town meeting.
"It only just trickled across our place, because we had an amazing team of locals in slip ons and fire trucks," she said, pointing to a photograph which shows one burnt corner of her front entrance, but an otherwise spared home.
"They had prepared so much after that town meeting, they put grader trails round the edge of town and out through the paddocks," she said.
"They'd done up this big perimeter around the town."
One house was lost in Sandy Gully, an empty farmhouse according to Mrs Bowden.
"They saved all the other houses. The men on the ground did an amazing job," she said.
"They literally came through our paddock, went through Wendt's paddock and then it popped out onto the Snowy Mountains Highway just as you go out of town and then it went down through Bobby Isaac's and there were a couple of young blokes in their slip ons – you could see them – they roared up the road past the cemetery and they literally stopped it at the cemetery road coming into town and they stopped it out beyond the hill near us and then it went back down to Grahamstown, sort of tucked up in what they call the Bangadang reserve.
"It was such a united front to stop it."
Russell and Margaret sat and waited at the Showgrounds with their daughter and other evacuees, watching planes fly overhead and listening to the radio calls between the fire trucks.
"The unselfishness and the determination of these local RFS, young fellas, all the volunteers with their utes and slip-ons as well as all the RFS tankers from around the area, they were from everywhere … it's just something you never know how to thank them for.
"Our two sons and son-in-law were on the fireground in Sandy Gully that day. We were fortunate our son Edward had his dozer and water cart in to make fire breaks on New Years Eve and the water cart was in the valley on the 4th."
Mrs Bowden's greatest concern during the fire wasn't for her home, but for the RFS crews. She said she was concerned they might not know there was a back entrance to the property and could get stranded if the fire closed off the main road in and out.
"I didn't want anyone getting killed trying to save our house," she said.
"I kept thinking, we can build another house.
"They're all locals, I probably know them all, I probably know their wives. I don't want anyone to get hurt."
Both the Bowden family and Mr Neyland commented on how "bone dry" the landscape was before the Dunns Road fire.
"It was crunchy dry, ready to just go up," said Mrs Bowden.
"Usually a fire will slow down at nighttime and make a run during the warmer days, but it was making big runs during the night because of the drought factor," said Mr Neyland.
"Being here (at Adelong) and then through Tumbarumba in one night was unbelievable."
Since the fires, Mrs Bowden said it's taken a lot of work for the locals and the land to start recovering. Her notes from the fires show the family left their property at 2.30pm on January 4, but were back by 11.30pm that night, starting the clean up.
"Cleaned up burning trees – roads, etc," she wrote, "Got flat tyre on tractor. Worked all night – so did boys."
At 2.30am on the 5th, they got a call from a relative saying another relative's home had been saved, even though it had been reported burnt. At 6.30am they went to check the home for themselves and then continued working on burnt trees and mopping up.
The work continued through the next week, with another brief evacuation on Friday, January 10, when 'catastrophic' conditions were being forecasted. The fire spotted into Tumblong, closing the Hume and Snowy Mountains Highways, but was stopped.
"Rain started – Fires settled," she wrote that day.
"Got home at 2.30am."
Mr Neyland said he continued working with the RFS until January 20, when he was called back to his job as a chainsaw operator for the council, felling burnt trees. After two weeks, the RFS called him to the fire line again as the fire continued to burn until February 24, a total of 50 days, 330,000 hectares, 180 homes lost and thousands of animals.
The Bowdens suffered minimal damage to their property and no loss of livestock.
"Since we've had all this amazing rain, it's actually done really, really well for us," said Mrs Bowden. "We've had all this rain now, you wouldn't think we had a fire.
"It's other people I really feel for that are trying to get their structures back and their sheds, and a big thanks to BlazeAid for everything they've done."
BlazeAid continue to help farmers in the region, which Mrs Bowden said has been a real support for the recovering landowners.